Transformation
These pictures are from my initial transformation back in 2014. They were taken only 14 weeks – yes, weeks – apart. How? I signed up for my first WBFF (World Beauty Fitness & Fashion) show and trained my ass off – literally. Remember, competition prep is not the same as normal training. I was able to cut through all my excess fat, which revealed the muscle definition I had underneath. I went from 135+ lbs to about 122 lbs. Since then, I've worked to build more muscle mass in all the "right" places, becoming stronger, healthier, and happier in the process. The booty and legs you see now are not genetic blessings or surgical projects, they're the product of hard work. I see girls on social media time and time again calling themselves fitness models, fit chicks, etc… when in reality, most of them were blessed at birth when they won the genetic lottery.
In my eyes, if they don't have a visible transformation of their own, they don't know the struggle and can't relate. I understand what it's like to be unhappy in your own skin and shy away from the mirror. I know what it's like to workout and get nowhere, to try this diet or that, to starve yourself with the hopes of achieving great results. I've been there, I've done it all, and I got where I am today by overcoming all those obstacles.
Registered Nurse
I have held full-time jobs in healthcare since the age of 16, and have been a cardiac registered nurse for over 8 years – 5 of which I spent working full-time night shifts, while also working a second nursing job per-diem. I have experience in an intermediate ICU setting (the ICU step-down), and have been a charge nurse for the last several years while I worked every floor of the hospital. I can help run a code, teach a patient about their medications, and work life-sustaining equipment. I am not "just a model."
I have a passion for health, wellness, and quality of life. I've used every opportunity to help promote those values to my patients and clients. The more I study health and wellness, the more I believe that it starts with changing lifestyle habits, such as regular nutrition and exercise. After 8 years in professional healthcare, I have never seen a natural athlete stuck in a terrible health crisis. There's a reason for that: fit, active lifestyles reduce the risk of disease and promote overall wellness.
After several years of constant work, I realized my life was spiraling out of control. I was overworked, overstressed, overweight, sleep deprived, fatigued, and extremely unhappy before I finally decided to take control of my life and get my priorities straight. I wanted to be a healthy, fit, strong, confident woman, actively preventing disease instead of treating everything with pills and medication. I wanted to change my life for the better, and I wanted to help others before they lost control of their health, too.
I've spent countless nights at a patient's bedside to calm her anxieties over dying alone. I've massaged my patient's backs when meds no longer alleviated chronic illness. I've comforted families struggling with loss. I've helped rehab people who lost limbs. I've made my patients laugh when they felt scared or embarrassed about their conditions. I cared then, I care now. Overall health and quality of life is everything. Aesthetics are just a bonus.
Fitness Model
I never set out to be a "fitness model" – in fact that was never my intention. About three years ago, I let the fall and holiday seasons get the best of me. I was unhappy with what I saw in the mirror and I felt even worse, so I decided to make a change for the better. I finished my first Paleo challenge with motivating results that led me to research aesthetic competition shows (lots of YouTube asking around). Finally, I decided to bite the bullet and signed up for my first bikini show. I got a coach and trained my butt off for 14 weeks straight before I stepped onstage, and it was far from easy. At the time, I was working 13-hour night shifts at one hospital, and per-diem at another to make up the cost of the show and coaching. By the time I stepped on stage, I was an anxious/excited/inexperienced mess – who placed 9th out of 30+ girls in my first competition.
From that point forward, I was hungry for a pro card. The next week, I entered a show in Canada (six hours away) in two divisions. My husband picked me up from work after a night shift on the day before the show and drove to Canada while I, still in my scrubs, slept in the back seat. He delivered me to the athletes meeting with minutes to spare. I placed 3rd in Bikini and 5th in Fitness – but no pro card. After training for a total of six shows in 12 months, while still working nights, I won my 5th show and earned my pro card.
I've met so many great people through the hustle and always made an effort to get my name out there; I worked with everyone I could to generate fun content. I've tried and failed time and time again but I've learned from my mistakes. I'm not perfect, I'm not trying to be… I just want to be the best version of myself that I can. During my journey, I made my private Instagram account public and started posting photos that documented my struggles and successes, thinking a few extra fans may help me land a photoshoot or help my chances of winning a show. I never imagined my account would become so popular. With all that said, I just want to thank you all for your love and support – I couldn't have done it without you.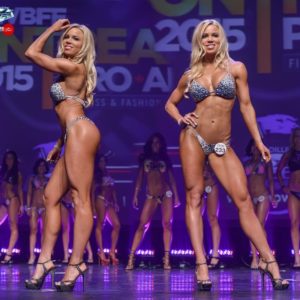 WBFF Bikini Pro
My personal prep experience for shows is unlike any other. In 12 months, I competed in six shows in both Fitness and Diva Bikini Classes. I made a New Year's Resolution Jan 1, 2013, to get in the best shape of my life and I stuck to it. I signed up for my first WBFF show while working full-time night shifts as a float RN at one hospital and as a cardiac ICU RN per-diem at another hospital. I earned my WBFF pro card after winning the Rhode Island show late 2014. Each show allowed the opportunity to learn from those around me and improve on every part of my performance. After placing 9th in my first show ever, I ranked 3rd, 2nd, 2nd, and 1st, respectively, in the Bikini Class. I competed in the Fitness division simultaneously for two of my shows and placed 5th and 6th, respectively. During training, I would work from 7pm-8am, sleep from 9am-3 or 4pm, go to gym until 6pm, shower/change, and head back to work 3-4 days a week. I understand the challenges of show prep: making time for training, meal prep, and everything else that comes along with it. I've had the opportunity to work with and learn from some of the best fitness and posing coaches in the industry – ranging from Team Domin8, Bikini Pro Runner up Brittany Coutu, and World Champion Mandy Sacs.
AUTHOR – NEW YORK Times Bestseller
I wasn't always a "fitness model." In fact, I've only been doing this professionally for about a year. Before my life got crazy busy with shows and work in 2014, I did CrossFit, adventure races, and wrote a New York Times Best Seller about my previous life. I've been on CNN, MSNBC, 20/20, 60 Minutes, and countless other TV and radio shows. My former life is far from glamorous; more than anything, it's sad and shameful. In short, I lost my entire family (father, mother, and three younger siblings) to the most hated cult in America. Simply Google my name, read my wiki, or see the YouTube videos of my talks to learn more.
I was indoctrinated into the cult as a child but was later banished due to nonconformance. Sent to a motel room with nothing more than a suitcase, I was forbidden from all forms of communication with my siblings and family members. We have not spoken since. I've had to rebuild my entire life while looking through the hourglass at the family and friends I once had. Since then, I've spoken at universities, conferences, and many other events to help educate the public about the power of hate and brainwashing. I've started a charity to help others escape the cult, wrote a book, posed for NOH8 and much, much more. In short, it doesn't matter where you are in life or how bad it seems right now, I'm living proof that if you just put one foot in front of the other – you're moving forward. You're making progress, however small it may be.
Wife
I have a life outside of what you see on the internet. My husband David and I have been together for over 7 years and happily married for 4. We travel together, manage business together, and try to make life an adventure together. We have been lucky enough to turn our passions into a business and help others in the process.
While Instagram may portray us leading a glamorous lifestyle, we are really a normal couple that happen to document extraordinary moments on camera to share with the world. A normal day in the life includes working on our business, training together, and hanging out with our little puggle buddy Max. We hope to continue to enrich the lives of others, while maintaining a balance in our own lives, and eventually plan to start a family. We are far from perfect but couldn't be happier. I wouldn't have it any other way.